Meet the Team
The chiropractic team at Priestley Family Chiropractic is here to help you improve your health and wellness. We're ready to warmly welcome you and determine how best to help you. Learn a little more about our health experts!
---
Dr. Brian Yocum, D.C.
Chiropractor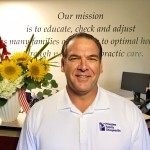 Dr. Yocum is a true California native. Born in Newport Beach, his family moved to Dana Point when he was four years old. His love of the coastal lifestyle explains why he continues to call Dana Point his home today.
Dr. Yocum studied Kinesiology at the University of Colorado in Boulder. He was in the top 5% of his class and graduated with honors, receiving a Bachelor of Science degree. After four years studying the structure and function of the human body, chiropractic was a natural choice for his advanced degree.
Dr. Yocum attended the Los Angeles College of Chiropractic and graduated Cum Laude, receiving a Doctorate of Chiropractic in 1997.
Dr. Yocum, along with his wife and son, are active parishioners at St. Edward the Confessor in Dana Point. With endless outdoor activities available in Southern California, Dr. Yocum and his family lead a very active life. Their favorite activities include camping, hiking, surfing, bodyboarding, fishing, and pickleball just to name a few.
Bryauna Smith
Technical Chiropractic Assistant
Bryauna Smith began her journey as a Chiropractic Assistant for Priestley Family Chiropractic in 2015. Since that time, she has attended numerous chiropractic seminars to further her knowledge so she could educate patients to better health. As a Tech CA, Bryauna assists Dr. Priestley in exams and performs Thermal, EMG and Heart rate Variability scans on patients. Being fully trained in acupressure, lymphatic drainage and cranial therapy she is able to help patients help patients on their wellness journey. She has a passion for holistic health which she incorporates into her active lifestyle by receiving weekly adjustments and eating fresh organic meals. She is currently on the path to empower her healer within and become a licensed massage therapist. Bryauna lives in Long Beach, CA. If she isn't out performing posture checks in the community, she is enjoying working out, brunching with her friends or at the beach.
Audrey Lee
Front Desk Chiropractic Assistant
Audrey is the Front Desk Chiropractic Assistant, where she interacts with patients to get them ready for their next visit. Audrey has been with the office since the Summer of 2018 after she moved back to the area from Northern California. Her whole family lives there so she likes to go back as often as possible to visit them. Audrey enjoys seeing all the babies that come into the office since they remind her of her little brothers. In her free time, she enjoys doing activities like biking and snowboarding as well as travelling and seeing new places.
Lisa Truelove
Accounting Manager
Lisa Truelove joined Priestley Family Chiropractic in 2008 as our Accounting Manager. She brings with her 25 years of Administrative and Accounting experience. Working alongside Dr. Priestley for 12 years, handling Finance and Back office operations. She has helped the overall flow of the practice to focus on the care of its members. As a proud Grandma of five grandchildren, she enjoys spending all of her free time with them. Lisa and her family live a chiropractic lifestyle and are passionate about health and wellness.

---
Priestley Family Chiropractic | (949) 640-7030